📞 Hello? Are you an AR Creator? We're calling for…
Creators from all platforms and levels of experience! It's Lens Fest time and on this special occasion, we are proud to announce that we have partnered with Snap Inc. to present you with an amazing opportunity. Together we decided to put forward a call for content and encourage you to test both your imagination and skills in creating AR experiences using Lens Studio.
To catch the eyes of Snap, Lens Studio & Lenslist, we dare you to….Change the LENScape! 👻🖼👇
Create, publish and submit an world-facing AR Lens inspired by your vision of innovation, change and progress – Changing the LENScape. Just as Lens Studio stands out with their newest features, we ask you to push the boundaries even further and try to use at least one of our favourite and some of the most advanced features:
World Mesh LiDAR
To take part in this content call, you don't have to use these features, but our goal here is to open up new horizons, so whatever this means for you – go for it!
This is not a competition, but an open call for content with a potential opportunity to be featured on Lenslist and a potential opportunity to be featured on the Snapchat Camera or Lens Explorer. After the Submission Period, on January 22nd Lenslist will publish a special Lens Gallery with out favourites on top!
👋 Who Can Take Part?
🌎 This call for content is open globally (see exceptions)
🔞 You need to be at least 18 years old,
⛔️ Employees of Snap Inc. and Lenslist (both Lenslist and Lens That) and their immediate family are not eligible to participate,
✅ Both individual Creators and agencies/teams can participate.
🔑 How to Take Part?
1. Create & Publish your Lens
First things first – Design your AR Lens in Lens Studio and then publish it on Snapchat. Download Lens Studio here 👇
Keep in mind, your Lens should coincide with your vision of what does it mean to change the LENScape 🤖
Your AR project can't include references to any real people, dangerous situations, other brands, show or imply alcohol or drunkenness, or anything offensive ⛔️
It has to be original! It means you can't use any third-party pre-existing copyright materials and/or stock images in your project. You can still use royalty free assets, though. ©️
If you have already created a Lens that fits our criteria, you can use it as a submission, provided it was developed for non-commercial use ♻️
Keep in mind that in order for your submission to be valid, your Lens needs to be verified, accepted and published on Snapchat.
Important note: Retain your original source files in the highest quality possible, as we might need them to make the final decision ⚠️
2. Submit your Lens
Each Creator or Team can submit 10 Lenses max 🔝
Each and every Lens should be submitted separately ❣️
All the information we need from you is:

your full name / team name,
your valid email address,
your Lens name and Lens link,

Apart from that, all we need is a link to your preview video showing off your Lens in the best way possible – MP4 or MOV file up to 15 MB. You can upload the recording using e.g. Dropbox or WeTransfer
In 24h you will get a confirmation email from our Lenslist Team, so that you can be sure your entry was valid and in accordance with our Guidelines 📨
Go to the

form

at the bottom of this page and submit your AR vision of Changing the LENScape! 👇
📒 Learn & Explore Lens Studio
Lens Studio is a powerful application designed for artists and developers to build augmented reality experiences for hundreds of millions of Snapchatters. With a huge set of built-in features including custom shaders and advanced tracking technology, the possibilities are endless!
In case you haven't used Lens Studio before or need a reminder, here are some links to key information on how to get started:
🖼 Changing the LENScape with Lens Studio
With 2D Full Body Tracking you can now create Lenses that move with your entire body. In technical terms, this means you'll have the ability to track 18 joints and trigger effects based on those body movements – legs included! Learn how to implement this feature with: The Full Body Trigger Template & The Full Body Attachment Template
SnapML allows you to add your own machine learning models to your Lenses, which means that you can extend the capabilities of Lens Studio to do more than what it comes with! Practically speaking, you might already be using machine learning in Lens Studio without realizing it if you've been using segmentation, skeletal tracking, and other features! Go to SnapML Overview to learn how to implement this feature.
Machine Learning Now in Lens Studio | Snap Partner Summit 2020
The LiDAR scanner in the new iPhone 12 Pro lets Snapchat's camera see a metric scale mesh of the scene, understanding the geometry and meaning of surfaces and objects. This new level of scene understanding allows Lenses to interact realistically with the surrounding world. Through a new interactive preview mode in Lens Studio 3.2, you can create Lenses and preview them in the world, even before you have the new iPhone 12 Pro in your hand. Check out the LiDAR Enabled Templates to learn how to implement this feature.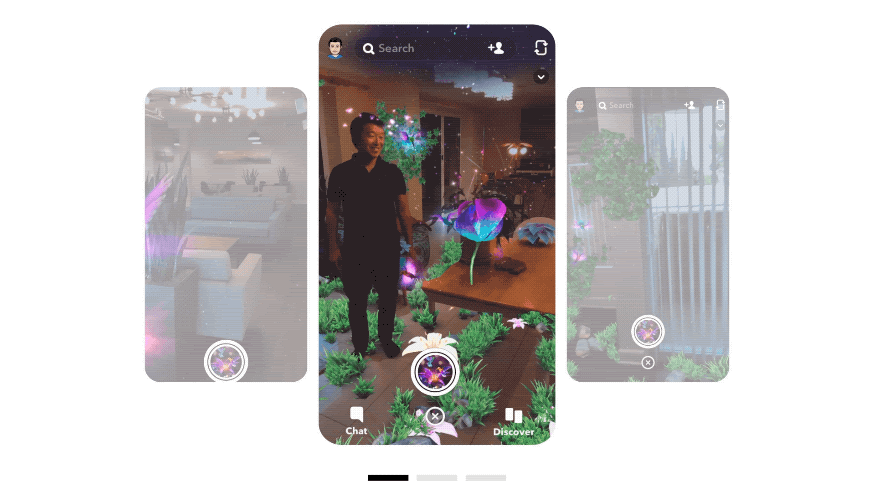 📆 Timeline
📜 Further Rules & Guidelines
Make sure you read our Call for Content Terms & Conditions and Privacy Policy before submitting,
This Call for Content IS NOT open to: Individuals who are residents of, or entities/organizations domiciled in, Brazil, Quebec, or any country, state, province or territory where the laws of the United States or local law prohibits participating in the Call for Content (including, but not limited to, Crimea, Cuba, Sudan, Iran, North Korea, Syria and any other country designated by the United States Treasury's Office of Foreign Assets Control),
There are no guarantees or incentives being provided for the creation or submission of a Lens under this Call for Content,
There is a potential opportunity to be featured in the Snapchat Camera and/or Lens Explorer but if a Lens is selected, Snap and Lenslist make no guarantee that it will use, feature or promote the Lens in any way,
Lenses selected, if any, will be in the sole and absolute discretion of Snap and Lenslist,
The creation and submission of a Lens does not create any employment relationship between the Snap or Lenslist,
Your ideas are safe with us! Submissions will not be visible to the public on Lenslist until the Submission Period is over,
Although, during the Submission Period, your project may be featured on Lenslist social media channels, of course with credits given to you, only as a way of spreading the word about our Call for Content,
Your design is your property and it will stay that way. If you are not selected as one of the winners, you will retain full ownership of your work,
Lenses submitted for our Call for Content can be used by you for personal, non-commercial and portfolio use only.
All rights in and to the material provided in this brief are reserved by Snap Inc.
During the verification process, you will be asked to provide the original files of your work, so be sure you saved them in high quality!
Lenslist reserves the right to remove inappropriate, offensive and harmful submissions as well as projects that do not fit the brief,
Submitting your Lens to our Call for Content is totally free. Both downloading the software and entering the Call for Content do not require any additional fee on your part.
is an interactive platform for Creators, Marketers & Technologists implementing social media AR in their activities. Our aim is to democratize Augmented Reality by spreading the word about possibilities, opportunities and current trends. We run the one and only AR filter depository updated daily!
is a camera company. We believe that reinventing the camera represents our greatest opportunity to improve the way people live and communicate. We contribute to human progress by empowering people to express themselves, live in the moment, learn about the world and have fun together.